Click on the picture if you'd like to see more pics of me.

Hi! I'm not here right now, but if you leave your name and the time you called with Molly, I'm sure she won't tell me.

A little about me and my life....

Hi there!! My name is Stephanie, and I'm twenty years old. This is my first attempt at doing a web page, but I'm working earnestly!! Let me start out by telling you a little bit about myself. I like to quilt, draw, paint, dance and sing. I'm also finding myself more and more addicted to the internet (especially IRC), and if you are looking for a good channel, try #Lionking. I also love adventure games (click here to see a list of some of my favorite games).
Until recently I was working in a day care. Believe me, it gave me a whole new perspective on various things. Now, however, I'm at home and beginning to learn Visual Basic (wish me luck!) Hopefully, within a year or less...I'll be programming through contracts. Also recently..I became engaged! If you would like to see my fiance, check out Zach's Page he also has a page dedicated to news and information about space at Zach's Space Page.

Some of my interests..
I like to read poetry quite a bit and would suggest to other who like it to read some of the following: R.D. Laing, Robert Frost, Sylvia Plath, E.E. Cummings. Some of my favorite authors: Stephen King, V.C. Andrews, John Saul, J.R.R. Tolkein, Terry Brooks, and Peter Straub is pretty good too. Oh...one more thing about books...I would highly suggest reading "When Rabbit Howls" by The Troops for Truddi Chase.
I also like watching movies. Fav's are:
| | |
| --- | --- |
| Pretty In Pink | The Breakfast Club |
| Reality Bites | Star Trek |
| Star Wars trilogy | The Fisher King |
| The Hobbit | Lord of the Rings |
| Footloose | Grease |
| Never Ending Story | The Princess Bride |
| Rocky Horror Picture Show | The Lion King |
As I mentioned before, I hang out in #lionking on IRC. Why? Because I love The Lion King!!! So, I've decided to dedicate a portion of my page to the movie. (click on TLK image below) You'll find pictures, from the lionking. And eventually you will fine pictures that fans have drawn, stories written by fans as a continuation of The Lion King. And hopefully, if I can figure out midi's, I'll be able to offer those to you as well.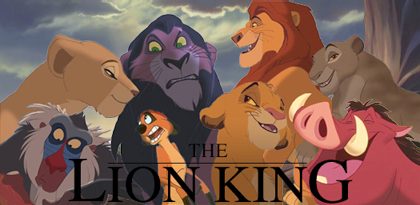 About my quilting...
I have learned everything I know about quilting from my mother (a wonderful sewer), and am still learning. So far...I have basically used Traditional Patterns, such as the Bear Claw, and Hole in the Barn Door. And christmas of 95 did two small throw quilts out of flannel. When I first started learning to make quilts...I wanted to make all mine by hand...but after a couple months of poking my finger with the needle...and gettin very uneven stitches...made up my mind that I should stick to a sewing machine while making the tops...until I get the hang of hand sewing. I hope to one day learn how to applique, in order that I can make more "original" painting type quilts. But for now I plan on staying with the tradtional patterns.
My mother has a page dedicated to crafts and quilting.... AniLee Creations

A bit about Molly and Mitzie my cats (from my perspective)...
Molly
I suppose I should tell you a a bit about Molly...(my master as she'd like me to call her). Molly is a Siamese Blue point / Manx. And if you don't know anything about manx's, they have short tails similar to a cotton tailed rabbit. I think she has some sort of complex about it too...so please don't mention it if you're ever around her area. We (Zach and I) got her on July14, 1995 from the Hennepin Humane Society of Minnesota. She was only 8 weeks old then.
When she was little she loved spending almost all of her time with us...but as of late...it seems as if she has too much on her mind to notice us as much.. I wonder what on earth she could be thinking about. You'd think she had the entire universe on her mind or something. Any how...here is some of her favorite things to do: jump onto: the kitchen table, stove, top of refrigerator, as well as the top of the cabinets above the refrigerator, coffee table, computer table (which she's trying to do as I type this), she love trying to sneak her nose into any glass of liquid that you may leave unattended, attacking the "monsters" under the covers at night, and of course she has to sit in the bathroom and cry pitifully whenever Zach or I try to take a shower or a bath. But if you are per chance taking a bubble bath...she has to sit on the edge of the tub (it takes a lot of courage for a cat to do this) and bat at the bubbles. (Is my cat the only one that does this??)
She loves getting compliments..."you're so cute", "you're so beautiful", "such a sweet little kitty", and I think all these "positive" statements have given her a god complex. Some of her favorite foods and snacks: Kitten Chow as a main source of food, milk, cheese, chili, spaghetti, noodles (before they are cooked), Whisker Lickens, milk gravy and bisquits.
If you haven't already looked at Molly's own section on this page...please do so...she is looking for help on finding some long lost relatives...so please check out her corner to find out more information and see if you can help her out.
(Please note...despite the fact that she sounds a bit "over active" shall we say...as far as getting up on our furniture and what not...Zach and I wouldn't have her any other way...in fact...her persistence to sneak around and do stuff we don't want her to...is one of the main reasons we love her so much.)
Mitzie
Some of my other pages...
Favorite Links!
Here are some links, to pages from friends, and some I've just happend upon and found cool.
Molly & Mitzie's World (my cats)


Whatchya think about this page? Send me mail! =)
This page has been accessed
times since February 9th, 1997.